Best Cannabis Marketing Tips and Strategies
The cannabis industry has been revolutionized in the last few years. Since an increasing number of people are getting into the cannabis world, many cannabis businesses are struggling to promote their brand to make their place in the industry.
However, it is not that easy to promote your cannabis business due to the restrictions involved in cannabis or Marijuana marketing. So if you are planning to advance your newly established cannabis brand, all you need to do is get creative with your marketing strategies.
Restrictions on Marijuana Marketing
Whether you work as a marketer for any industry or own a business, you should be aware of the limitations in how companies like cannabis can be marketed when it comes to marketing and promotion.
The advertising rules for the cannabis business in the United States vary from state to state. As compared to other industries, you may be limited in how you can boost your cannabis business. Advertising physically through posters and billboards can be challenging in some locations.
However, most companies find creative ways by utilizing the most effective digital methods of Marijuana marketing through disguised advertising. Some businesses even use a lawyer's services to ensure their cannabis marketing and branding methods are lawful and will not cause any trouble.
Below are the best cannabis marketing strategies and effective ways to reach potential customers.
Social Media Marketing for Cannabis
Marketing your business on social media is essential these days as it even works for cannabis business. There is a vast potential to connect with your target market directly and appeal to potential customers. Digital tools can help improve the online presence of your cannabis company.
Even though the biggest social media platforms like Instagram, Facebook and Twitter inhibit the advertising of cannabis-related products and services, a growing social media following can help you gain a lot. It will help if you constantly post content on social media to broadcast the news about your brand and encourage the audience to choose your brand over others.
Using social media platforms increases your business's visibility and enables the customer to follow and directly communicate with you.
Moreover, you can also join some cannabis social networks to promote your products and advertise your services to cannabis enthusiasts. Cannabis social networks enable you to find and connect with potential customers.
Email/SMS Marketing
Email marketing is still considered the most effective digital tool, and many cannabis stores and dispensaries are using sms or email marketing to boost their business. Email marijuana marketing can encourage repeat purchases as it is an excellent way to appeal to the people who have already designated their interests. There is no surprise that over 5.6 billion emails were active as of 2019, indicating excellent potential in email marketing.
One of the best ways to use sms/email marketing is to send flash sales promotions to captivate customers' interest. If they find a good deal to avail with a limited time offer, they will more likely make a purchase.
SEO for Cannabis Marketing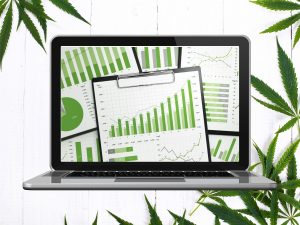 Doing SEO (search engine optimization) for your business is another efficient way to attract customers online. Statistics show that over 3.5 billion searches are made on Google each day, and many customers search for online businesses before making a purchase. Showing your cannabis brand on the first page of Google is a huge success. However, it is only possible with proper SEO.
The best practice to boost your SEO is by adding a blog section to your website with the help of a web design firm or on your own and create SEO optimized blog content for your website. Creating niche-specific content while targeting the right audience based on their interest can help significantly. You can choose the low competition keywords to improve your SEO as the more specific are your titles, the better.
Furthermore, link building is also essential to boost your business. Your website can perform better on Google if it has more backlinks from other websites. However, it can be challenging to make your brand visible on Google with increasing competition in the cannabis industry, but using the services of experienced writers and SEO experts can make all the difference.
Attending Cannabis Industry Events
The cannabis industry events, conventions, and trade shows are the  for all cannabis retailers of manufacturing companies to get their products in front of their target audience. Many companies and store owners frequently conduct such events and present opportunities to secure new sales.
Attending industry events or networking has many advantages as you come to know the people with the same interests that might lead to future collaborations. So whether you attend or sponsor an event, utilizing this strategy can increase your visibility and authority in the cannabis world. You should keep an eye on the upcoming cannabis events and conventions to allow this opportunity to promote your cannabis business.
Final Words
When it comes to cannabis marketing and branding, the companies have limited choices by federal regulations, state laws, and the policies of the world's largest advertising networks. Still, cannabis brands can work around those restrictions with some creativity and a little ingenuity and find reliable and safe ways to reach their target audience without any risk.